Rachel Scutt, BS, LMT #10327(CO), NCETMB Certified, ABMP Certified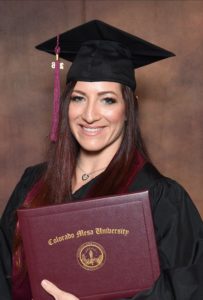 Graduate of Universal Therapeutic Massage Institute in New Mexico on Feb. 2008, NCTMB Certified in May 2008, Certified in Medical Massage on Feb. 2009, Graduate of Colorado Mesa University with a Bachelors of Science Degree in Exercise Science in December 2016, and an National Physique Committee (NPC) member & bodybuilder, Powerlifter, Kickboxer & now Olympic Weightlifter!
I am a firm believer in the amazing abilities that the human body possesses.  How our bodies can generate a power and strength like no other yet are so fragile.  The powerful modality of massage therapy can truly assist our bodies natural ability to heal itself from every form of stress or trauma, both good and bad.  In all the years that I have been practicing I have seen so many people walk into my office in pain, limited in their range of motion and just plan emotionally drained by the various levels of discomfort they have been suffering with.  Physically, mentally and even emotionally.  Then to see them walk out of my office with so much relief & happiness in their face and to see their bodies even moving better just touches my heart.  I also love having my athletes come in with specific limitations and even aspirations to gain more strength, endurance and overall mobility in effort to increase their overall performance.  And being able to assist them in the specific phase of their training with my specialized technique coupled with my knowledge and understanding of their sport along with a full awareness into the athletic mindset is just an experience like no other!  Therefore, my personal mission is to continue to do all that I can and within my scope of practice to assist every individual I work on and to help the world live pain free, happy and thriving with mobility and optimal human function!
I am a huge advocate for education and pure knowledge. That's why every client I work on is not only getting relief through my specialized technique they are also getting educated as to why their body is responding or behaving in a specific manner. Why they feel what they are feeling and why one problem leads to another. I truly believe that the more you understand why your body is responding & functioning the way that it is then subconsciously you'll start healing yourself even deeper.  This philosophy is the foundation of why my practice is called Mind & Muscle Medicine.  Because awareness blended with the power of touch is truly one of the best forms of medicine you could empower yourself with.
Just as passionately as educating my clients, I find it extremely valuable to always be looking at ways to continue my own knowledge as an individual and as a Massage Therapist.
Gaining my Bachelors Degree was a huge step in my professional career and practice.  This degree enables me to also provide clients with not only stretches for self-care but to also empower them with exercises designed to help them become stronger and recover faster from the factors that may be limiting themselves!  This allows me to guide every client in a more advanced rehabilitative way from the massage therapy end of my practice to helping them become stronger through a clear understanding in exercise for their specific body and even nutritionally to help them live a happier and healthier life in a very positive and holistic way!  I truly believe that when you can feel good internally, you'll reflect it mentally and even externally and your world around you will truly become amazing!
While assisting my clients in their rehabilitation, health and fitness goals, I too continue to work on achieving my own personal growth through fitness.  I have been an NPC Bodybuilding competitor since 2014 with my goal of obtaining a Pro Card.  Today I compete in the category Women's Physique where I get to pose like a bodybuilder and perform a beautiful routine of flexing and dance to show both strength and femininity.  In my training I also embrace powerlifting and Kickboxing.  Just like in my practice I believe in having many tools in which I can apply to specific clients, I too believe in the idea that an athlete in general performs best when they are well rounded by a vast array of fitness abilities.
Being an athlete & bodyworker, I carry a rare level of expertise & understanding in the human body not just physically but also in the mental challenges that are presented on a day to day basis.  Being a wife of 17yrs, and mother to 2 teenage boys I completely understand the desire and necessity of overall balance that is essential to life as a whole but also to yourself & your families health and well-being.  Which is why I am a huge advocate for embracing the importance of taking care of yourself so that you too can take care of the people you love in your life!
Although it may seem that our world can be chaotic and stressful, I also see the beauty that surrounds us every day.  I believe we can all enjoy this beautiful world healthier, happier and become true masters at balancing and managing our lives and to really become stronger as a whole so that we are always ready to handle any stressors that come our way. I appreciate you taking the time to visit my website and I look forward to seeing you on my table and sharing my amazing technique with you and feel all your worries simply melt away!
Respectfully Yours,
Rachel Scutt, BS, LMT, Owner